Please Note: My grammar pretty much sucks on this, lol. I don't have time to go back through and edit it though so overlook it. I am a much better writer now, as I write stories on the website storywrite.com. It would take a lot of fixing to get this article correctly written! lol. ~Joann~

M&M's Day At The Opry... By: Joann Freeman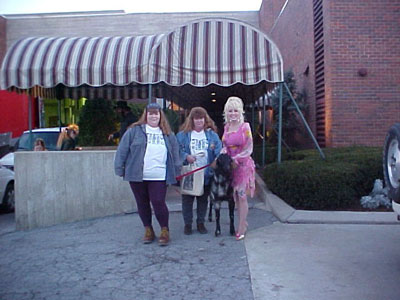 Click here for the commercial! Go to Parton Promo #7 Goat "M&M's Day At The Opry House" M&M (AKA: Mr. Miracle) is the son of Ziggy Acres Irish's Spunky Rose & Fox's Pride Gypsys Alfalfa.

Who says the Opry House in Nashville , TN is just for country superstars? On Febuary 18 , 2004 it also welcomed our senior Nubian herdsire M&M to it's hallowed halls. You may be wandering how & why a goat was even at the Opry House. Here's the story…

A few days prior to Febuary 18th my friend Stephanie Williams at Doin Wonders mentioned a commercial filming in Nashville , TN for the Flameworthy Awards show on CMT (Country Music Televison) with Dolly Parton. She said they were in search of a gentle spotted buck that could be led across the stage. Remembering how gentle I had said M&M was she thought he would be perfect for the part.

After talking to the lady at CMT who was looking for one she was even more intrigued once I mentioned how we dressed our goats up. The fact they could put clothes on him I think really sealed the deal on it. So it was set , the commercial was filming in only 2 days. We went the next day & picked up a health certificate at the vet. He ofcourse thought we were insane , saying "Doesn't Dolly know bucks pee in there face"? Being from the country I'm sure she does but , we have several does I mentioned to her & they wanted a buck. M&M though unless it is breeding season is a very well behaved guy thank goodness.

We left early am the morning of the shoot around 5:30 Eastern we were due in Nashville by 1:00 PM & since Nashville is over a 5 hour drive we wanted to allow for plenty of time to get there. Disaster ofcourse struck before making it to Nashville. At a rest area , the keys ended up locked in the truck , go figure. Luckily it wasn't long before we were off again.

At 10:30 AM Central we arrived at the Opry House in Nashville , TN. After going through security we first made our way inside to find a bathroom *Laugh*. We were to enter in the artists entry , how cool it was to think here we were backstage at the Opry House where so many of my favorite artists have walked the ever famous red carpet!

They had a catering crew set up for everyone there with tons of stuff & we were told to help ourselves since we were part of the production that day , seemed kinda like being star for a day I guess. We got something to drink then went back out to get M&M out & let him walk around. My Mom (Ann) gave him some Probios after the long ride as well as water & feed. After munching on leaves awhile M&M decided he was ready to go back up.

They were 'suppose' to do M&M's part a 1:00 PM but , it kept getting pushed back. The day seemed to drag on & on , after the long drive we could all feel the affects. Around 5:00 PM we got M&M back out & decided to let him walk around some more. We were standing behind the truck when a guy from the production crew came running out to get us , he said Dolly was on her way out to take a photo with us. So here we all went running up to the artists entry canopy.

Dolly was really nice , she even told M&M how good he smelled (We had given him a little baby powder & sprayed some stuff on him to tone down the little bit of bucky odor he did have). What was really funny after taking the photo M&M decided he had to go. Here go's goat pebbles bouncing at Dolly's feet , she quipped "Well when you gotta go , you gotta go" & laughed then proceeded telling him how pretty he was. After Dolly had left my mom cleaned up after M&M then we went back out to wait even longer.

Around 7:00 PM one of the crew came out & told us M&M had been cut!! Boy were we furious after driving near 5 ½ hours , waiting at the Opry House 8 more hours we were extremly ticked off. They could sure tell it to. It was 5 mins later when they came back out in a run hoping we had not put him back up , they decided they were back to using him so someone on the 'inside' had from what we gathered jumped there butts.

Now it was M&M's turn to walk the red carpet , in the door of the Opry House & on to the stage. The shirt they had gotten for him was far to little so it had to be tied around him like a cape. They also had him a blue cowboy hat , glittery feather boa & a collar/lead with shiny silver cloth glued on.

By this time M&M had gotten very restless & tired so he was not wanting to mind as good as usual until my mom thought of cookies. He loves cookies , after seeing them he was more than willing to go for a few takes.

It was certainly & unique expieriance , we had been to Nashville many times for concerts , Fair Fair & such but , never in a million years would we have dreamed we would have been in Nashville , there at the Opry House to film a commercial with one of our goats.

The local newspaper here was in shock over it , they printed an article along with a photo of him in his outfit. I have been recording hours on end of CMT the past few weeks so I would know when it begin to air. With all the bottle babies we currently have theres no time to sit for hours watching the tv. Finally just this past Sunday (March 28th) it was aired!

What a cool thing to see it on tv & yes ofcourse we recorded it on more than one vhs *Laugh* ! Kids from M&M are due in April , we plan to name a keeper doeling , Flameworthy as well as one Dolly. I hope his tempermant is passed on to all his kids because he is certainly a gentle giant!